The Owner by Xavier Neal
Release Date: February 24th Genre/Tropes: Hockey Romance, Sports Romance, Drunk Marriage, Office/Workplace Romance, Older Woman/Younger Male Romance, Surprise Pregnancy Romance
The Owner by Xavier Neal is NOW LIVE!
5 Star Read!!
I have seen Xavier Neal book teasers and have shared a few of them myself. But it was time for me to read a new book from this author. I was not disappointed and I kick myself for not reading previous books. I loved Harlow and Brenden. Their story gives you a little bit of angst with the "What ifs" and "Oops" these two found themselves in. This is a sports romance in the Hockey era. I love these kind of stories, but there was a gem to be found in The Owner.
The chemistry was a given with Harlow and Brenden. The temperature definietly rose in the room with their private moments. I was hooked on this story from page one and lost a few hours of sleep because I needed to read that One More Chapter!!
The Owner is a great book that I highly recommend from this author. If you haven't read previous books, its okay. This book is the first in its series and is a great weekend read!
GRAB THIS ALL-NEW SPORTS ROMANCE TODAY!!!
Amazon: https://amzn.to/3m2aNNI
Amazon INTL: https://geni.us/hOJ3Ms
Add to Goodreads: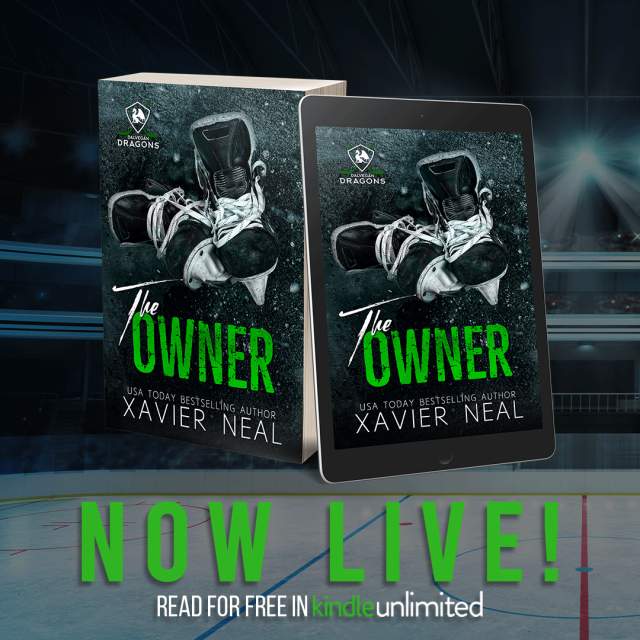 Blurb:
What happens in Vegas stays in Vegas…
That's true unless your new husband – who is much younger than you by the way – doesn't actually want a divorce when you both sober up.
Or, of course, if you get pregnant – the last thing you need right after becoming the new GM to a failing pro hockey team.
I guess you could say this year won't be easy.   Especially for me, the owner.
Xavier Neal is a best-selling romance author who enjoys hopping from sub genre to sub genre like a game of Hopscotch she can't resist.   In between writing, she loves to read (everything from romance to self improvement books), watch movies (old and new), eat too much Tex-Mex (her Chuy's t-shirt collection is out of control), and watch AHL hockey games LIVE (preferably against the glass whenever possible).   She currently resides happily in Texas with her bearded husband "Lumberjack" and their two fur babies.
Connect w/Xavier:
Website: https://www.xavierneal.com
Facebook: https://www.facebook.com/XavierNealAuthorPage
Twitter: http://twitter.com/xavierneal87
Instagram: https://www.instagram.com/authorxavierneal
Goodreads: https://www.goodreads.com/author/show/4990135.Xavier_Neal
Amazon: https://amzn.to/2KAOA4z
Bookbub: http://bit.ly/2KA7tEW
NL Signup: https://www.xavierneal.com/newsletter